County Strokeplay Championship 2020, a great success at Maryport Golf Club.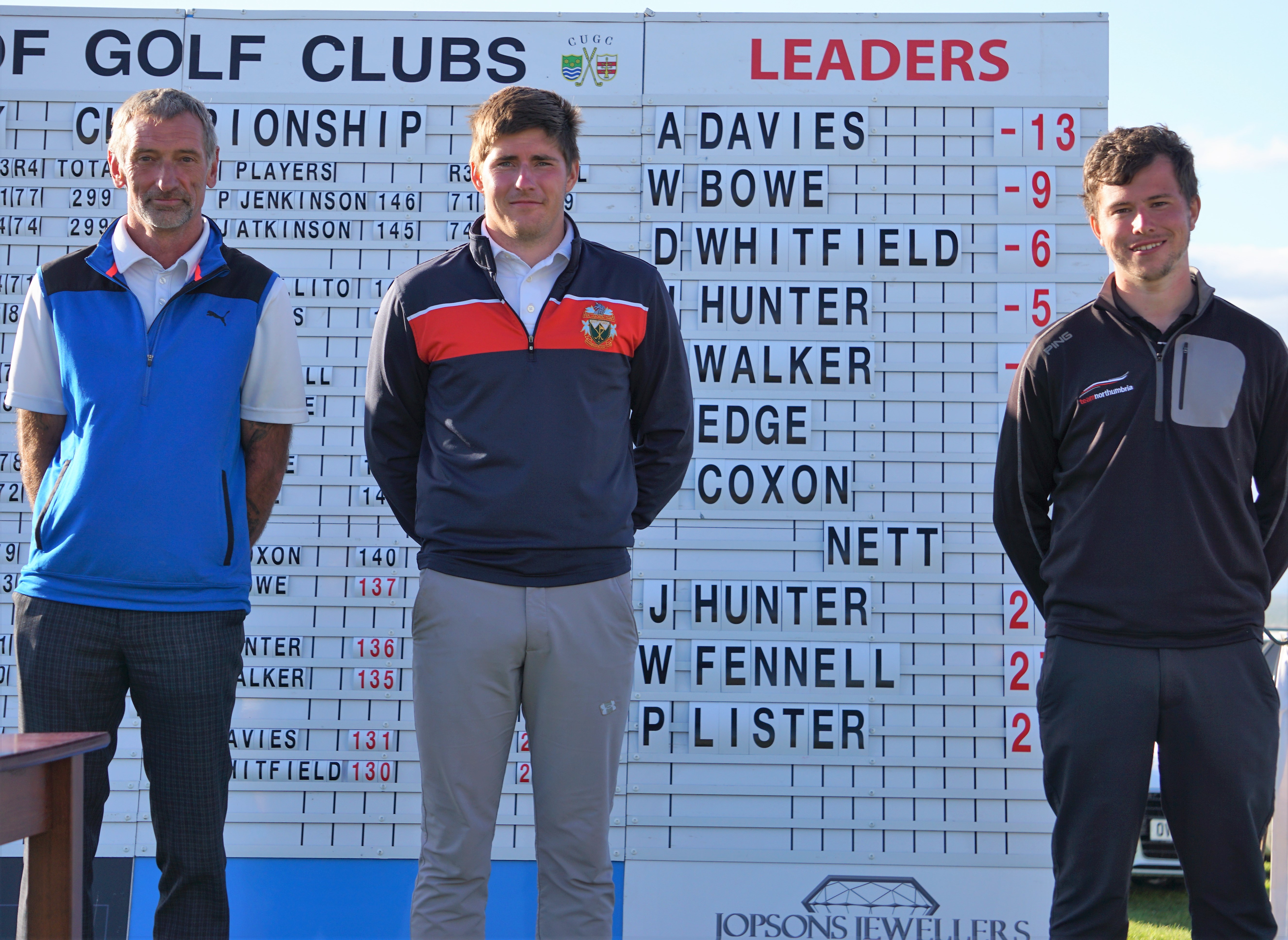 Archie Davies Cumbria County Strokeplay Champion 2020
Maryport Golf Club
An almost full field of golfers graced Maryport GC on the weekend of 18/19th July 2020. This being the most important and prestigious competition of the County calendar, Maryport golf Club along with their members did an outstanding job in all aspects of helping with the competition. The volume of volunteers who helped in spotting, marshalling and managing the course on the day was one of the major contributions to the competition running so smoothly.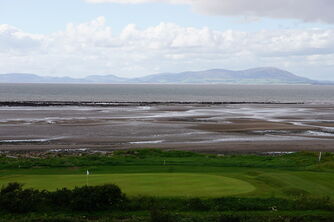 The first days play saw a couple of withdrawals but that seemed to be a bonus to Darren Whitfield who paired with Jon Clarke and set the target for the first days play. The pair set off on a drizzly damp morning which began to brighten up, especially when Darren brought in an unbelievable Gross 64 ,6 under par. Darren's playing partner ,Jon Clarke, also had a 2 under par, 68. A buzz was felt around the clubhouse thinking some great scores could be around the corner . Reigning County Champion Will Bowe, along with Archie Davies and many other possible contenders were still to go out.
Second pairing of John Carr and Rory Thompson saw Rory bring in a 68 matching Jon Clarke's (Furness) score. Luke Walker teed off at 9.00 am and came in with a 67 ,,3 under par along with Junior, Will Coxon, who posted an excellent 69. With 3 rounds to go, it was going to be a very interesting and exciting couple of days.
Due to Covid 19 Maryport's policy of starting on the par 3, normally the 17th hole ,was adopted by the County Competition Committee which turned out to be a very good decision. The hardest hole(SI 1) the old 15th which normally plays into a strong westerly wind became a big part of the scores that were returned. Out Of Bounds on the left with a fairway which runs the ball down toward the O.O.B. along with a dished green has a well deserved nickname of "card crusher " .
Jack hunter of Workington had the pleasure of playing with 2 county players, Steve Jopson and Paul Jenkinson ,which looked to lift him and he posted a marvellous 65. Archie Davies followed in with a 67.Then Will Bowe posted his first score in the competition of 69. by this time the weather was a lot better and Round 2 was soon to be under way.Darren Whitfield was first to post again with another great score of 66 in the afternoon and looked in a very comfortable position leading the field on 10 under par.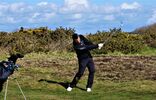 Chris Drabble got himself a Hole in One on 9 , which cost him a bottle of whisky, but it did contribute to him posting a 69 in his 2nd round. Second round scores began coming in thick and fast without anyone really threatening Darren's score of 130 . All eyes were on Will Bowe to see if the defending Champion could retain his title. Will posted a 68 on his 2nd round and Archie a 64 equalling Darren's course record. With Will Bowe needing to pick up shots on Darren Whitfield's marvellous 2 rounds, no one would bet against him on the 2nd day as his determination is renowned.
Forty two players started day two and played in 2 balls, with a slight wind in the morning and gathering pace in the afternoon round ,it would be a case of who could keep the ball straight as Maryport's fairways are not the widest with O.O.B. and trouble easy to find. Will Bowe began his 3rd round and brought in a respectable 70 but everyone was beginning to think it was going to be a new name on the Trophy. Archie and Darren were out together in the last match and with Darren bringing in another fantastic 65 and Archie a 66. It really was going to be a tight final round. Darren was 15 under par and Archie on 13 under par with 1 round to go. Will Bowe had his tail up and fought to recoup some shots on the 2 leaders and he too equalled Darren's first day 64 course record. That now made Will Bowe 9 under par. Darren began to drop shots while Archie's consistency paid off and he came down the 18th fairway knowing he had the title in the bag.
Congratulations go to Archie Davies for a fantastic win with commiserations going to Darren Whitfield for a brilliant effort coming 3rd. A little compensation to Darren who now has the course record to his name at Maryport. We should not forget Will Bowe, last years Champion ,who was runner up this time, he will now have the bit between his teeth for the Individual Matchplay at Ulverston GC 15th/16th August 2020.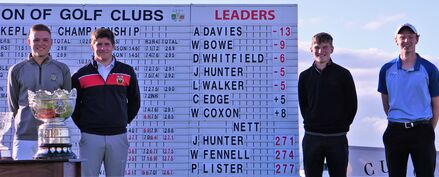 The Tufty Blair Nett Trophy was won by Jack Hunter of Workington GC. Congratulations Jack on winning with a score of 271 and also on your Handicap reduction to now play off scratch ,well done. 2nd place in the Nett trophy went to Will Fennell of Workington GC with a great score of 274 ,well done Will. 3rd Nett place went to a home club player Paul Lister of Maryport GC. 277.Well done Paul.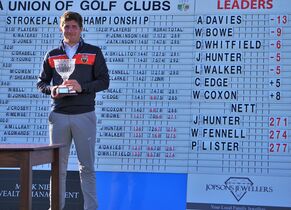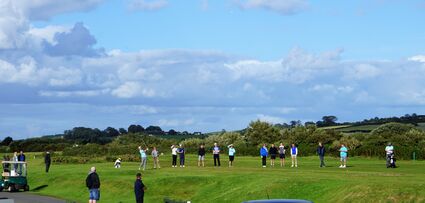 The Chairman and the County Competition Committee would like to thank Maryport GC for the use of their course. It was a tremendous effort by everyone involved and one of the best supported Strokeplay Championships in recent years. The CCC Chairman would also like to thank The Captain of Maryport GC, Chris Burford along with all Directors including Tim Kemp, Wendy Wright ,bar and house staff and all green staff who worked tirelessly along with all the members, volunteers and County Referees who helped to make the competition a success.