Luke Walker Individual Matchplay Champion 2020 at Ulverston GC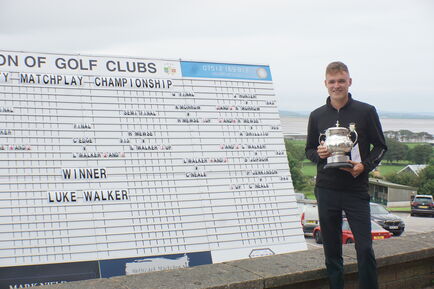 CUMBRIA MATCHPLAY CHAMPION 2020
LUKE WALKER
With 8 matches setting off the first morning, all but 2 of the 8 matches ended with the lowest seeds going through to the quarter finals.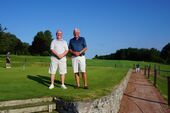 Home player Kerry Morrow knocked out Jack Hunter & Chris Neale beat Paul Jenkinson.
The afternoon set off with a determined Will Bowe playing another County squad member Mike Parker from Penrith. Parker fought his way to the semi-final with his quarter-final match ending all square after 18 holes. Sudden death came into play. Mike dug deep and managed to get the win he needed on the first hole giving him his place in the first semi-final.
Kerry Morrow of Ulverston fell foul to Richard Mewse, giving Mewse his place and Chris Edge beat Will Coxon for the 3rd place spot with local player Luke Walker fending off Chris Neale to secure the 4th spot in the semi-finals.
Sunday was to produce a spectacular show of golf with Mike Parker's confidence high, he set off against Chris Edge followed by County playing partners Richard Mewse (2018 winner) and Luke Walker.
Luke was now favourite, being on his home course, expectations were high but he still had to beat Mewse to move through to the final.
Chris Edge played well to beat Mike Parker and take up his place in the final. While Walker and Mewse battled their way to the 18th green, Richard needed a win to force a sudden death. Local knowledge played its part with Richard putting his second shot through the green and Luke seizing the advantage to put himself through to the final to play Chris Edge.
The Final was a fabulous match to watch with many holes being halved in birdies. Nothing much between the players throughout the game and with both players screaming balls off the tees and spotting the greens it was a fantastic match in progress. It became very tense with the players teeing off on 16. Luke was 1up with 3 to play. Chris Edge had a massive drive down 16, his approach left him looking like he could get another birdie, while Luke's approach wasn't as good and looked like a par was to be had. Chris missed his chance and the two players halved the 16th hole. With two holes remaining Luke just needed a good drive on 17 over the quarry, unlike his morning round, which must have passed through his mind. Chris knew he needed to make his move, it was a tense moment and unfortunately he had to play a provisional off the Tee as it was unclear if he would find his first ball. Edge's ball could not be found leaving him to play his 2nd ball and opened the door for Luke to step through to win the Championship on the 17th green 2&1.
Fantastic golf played by 2 young men and it was a privilege to watch.
Our thanks go to Ulverston GC for their support in hosting the competition, which in this difficult year was in doubt along other County Competitions but Cumbria now have a Strokeplay Champion and a Matchplay Champion for 2020.
Congratulations Luke Walker and very well done. Cumbria Individual Matchplay Champion 2020
A very impressive and worthy winner.