CUMBRIA COUNTY STROKEPLAY CHAMPIONSHIP AT SILLOTH GC 2019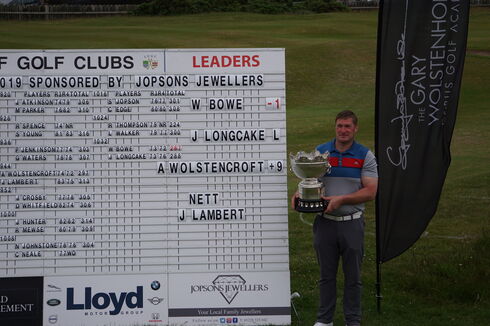 Will Bowe dug deep and played the course fabulously on the 2nd day, to turn around the first days 3 shot lead from John Longcake's 5 under par over the Two rounds.
Will came out on the second day with determination to grasp The Strokeplay Title on the 18th Green from John Longcake who knows Silloth links like the back of his hand.With his trusty caddie and wife Sally the title just wasn't to be this time.
A great tussle between them turned into almost a Matchplay situation as they came down the 18th fairway.Both men were teeing off on the 18th tee after 71 holes with the same amount of shots taken,both second shots were to prove a little tense as the players missed the green. With the following wind Johns 2nd shot to the green rolled through the back.While Will's 2nd shot missed the Green to the left, but was pin high.
Both players played tentative chip shots to the green with Will finishing the better of the two to bring in a total score for the 4 rounds of 287 with John on 288.A real testing weekend for all players.
A well deserved 3rd place was secured by Carlisle's Andrew Wolstencroft who played steady rounds throughout the competition. Luke Walker of Ulverston was 4th with Stephen Jopson of Jopson's Jewellers Carlisle (Events Mains Sponsor) snatching 5th place.
The New "Nett Tufty" Blair Trophy and Prize Voucher was won by James Lambert of Stony Holme.
Special Thanks to all staff at Silloth GC for their hard work in the Clubhouse and to the Greens staff for preparing the course to an immaculate standard.To all the Referees who give their valuable time and knowledge in making the competition run smoothly along with all helpers,volunteers and Executives.Thanks also to Sponsors Ellis Bros Maryport,Nu-Mech of Workington and West Coast Karting of Maryport for their support.